Mat Services in North Carolina
Mat Rentals has pre-qualified mat rental partners throughout the North Carolina Greater Area. We offer a free and easy to use online search tool to help you get competitive quotes on mat rentals for your restaurant, salon, gym, hotel, spa, medical facility, or any other business that requires mats.
Call us at 888-712-4669 to find a mat rental near you!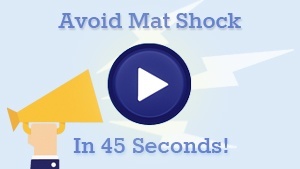 Watch Our 45 Second Video
Mat Rentals in North Carolina
Mat Rentals is your go to place to locate any kind of mat that you may need for your business. We have a database that features a list of the most trusted and highly rated mat suppliers in your region. Our company can help you find mats for your restaurant, gymnasium, barber shop, school, office building, company, sports team, supermarket, workshop or factory. Whether you are looking for scraper mats to the entrance of your business, an anti-slip mat, or a branded mat with a logo of your firm, Mat Rental can help you locate the perfect mat for your business needs. We can also help you find a mat supplier who can provide customized extra large or irregular shaped mats for branding, special events, marketing or safety needs. Here is just a small sample of some of the kinds of mat and service we can help you to find:
Helping You Find Quality Mat Rentals At An Affordable Price
At Mat Rentals our number one goal is to help small businesses find trustworthy suppliers of mats for all their commercial needs. We go to great lengths to vet mat suppliers before allowing them to be listed in our database. By thoroughly vetting the supplier we work with, we can guarantee that you will find reputable mat suppliers that can deliver mats that are of a high caliber in a timely fashion through our exclusive network.

We realize that every aspect of a business must be top notch and integrate seamlessly into your business. Our company constantly updates its database by requesting and monitoring feedback from clients throughout the year. If a company does not deliver quality mats and professional customer service, then they will be axed from our list. Below is some of the criteria we screen our mat suppliers before we include them in our database:
Business is at least three years old
Outstanding judgments and lien
Business permits and certificates
Better Business Bureau (BBB) lookup
No history of bankruptcy
Referrals from selected former clients
Business state filings
Find the mat rental for your business by browsing our database for free. You can also call us toll free at 888.712.4669. One of our customer service representatives will be able to assist you in finding a mat supplier that can fit your need and that is within your budget.